The Citadel of Cairo (Saladin's citadel)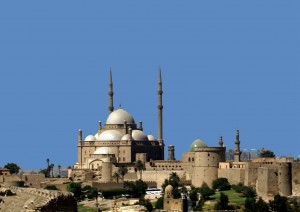 The Citadel of Cairo (Saladin's citadel) is an Islamic fortification, located on the hill Al Moqqatam in Cairo.
This citadel was built by Saladin in the 12 th century to defend Cairo against the arrival of the Crusades, today the Citadel of Cairo is considered as a touristic point of interest, for foreign tourists and also for Egyptian tourists for its historical value, monuments such as mosques (Mohamed Ali's mosque, Ibn Qalawun's mosque), museums (military museum and the police Museum), palaces "Al Jawhara" , "Mohamed Ali's palace" which was transformed into a military museum , Also for its space and fresh air.
The citadel of Cairo was built during several Islamic periods, Memlouks, Ottomans, and Mohamed Ali (the founder of the x royal family of Egypt that begins with him and ends with the famous king Farouk) all of those have attributed in continuing adding monuments inside the citadel.