Pyramids of Giza and Sphinx with a private tour guide

Pyramids of Giza and Sphinx with a private tour guide can assure your safety, because he/she informs the local authority of your program, he/she protects you from the harassment you may encounter on the Giza plateau.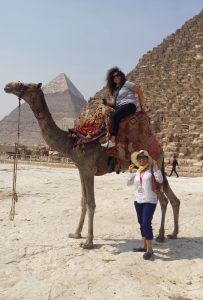 Visiting the Pyramids of Giza and the Sphinx (UNESCO world heritage) is essential when visiting Cairo, your private English speaking guide will pick you up at your hotel with a convenient car (comfortable and air conditioned) & driver, we arrive on the Giza plateau, then we stop in front of the great pyramid of Cheops "137m height", one of old seven wonders of the world, your Egyptologist tour guide will make the explanation, after that.. there is a free time to take memorial pictures, and then the private guide will take you to visit the small pyramid of the mother of the pharaoh Khéops, to visit the Mastabas of the nobles, (penetrating in one of the three pyramids is optional with entrance tickets).
Your private tour guide proposes you the visit of the wooden solar boat that was discovered in 1954, if you are interested in this visit (optional with entrance tickets), he/she accompanies you and explains it to you.
And then, the private guide proposes you a camel ride with a trusted camel driver (optional with reasonable price).
We arrive at the panorama of the three pyramids of Cheops, Khephren and Mykérinos where you can take magnificent pictures of the pyramids of Giza and then we go down with our driver to visit the Sphinx where they prepare for the light and sound show in the evening.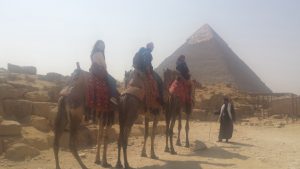 Your private tour guide organizes well the visit of the three pyramids and the sphinx to allow you to make the most of your time in safety, avoid the harassment which makes your visit more pleasant.