Instant interpreter/translator in Cairo with DW Akademie (Deutsch Welle) for the third time.

This time, was different because DW akademie (Deutsh Welle) was supposed to do its work shop in Port-Said city, one of nice Egyptian cities of the Suez Canal, which lies in the north east Egypt, north of the Suez Canal.
Port Said is considered as the third economic city in Egypt after Cairo and Alexandria, food processing, chemical industries, cigarettes and fishing are the bases of its economy. It is also an important harbor to export the Egyptian products such as rice & cotton, and a station for ships that pass through the Suez Canal.
It has a touristic importance because it is a stop for ships that make quick trips to Cairo like "Costa cruising" ships, also it was a cosmopolitan city since its establishment by Said Pasha (one of the kings of the x royal-family) in 1859; a lot of Mediterranean nationalities lived in it.
But at the last minute it was decided to hold the workshop in Cairo, DW akademie invited the participants to come to Cairo and the workshop was held at El Masry EL- youm (Egypt today) newspaper that was established in 2004
At the fifth day, al Ahram (the pyramids) newspaper invited the team work, Coordinators, participants and me as the instant interpreter-translator.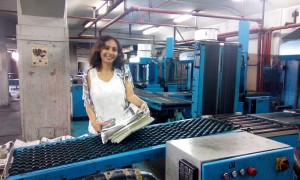 The visit of Al Ahram was really interesting as it was established in 1875, so it is a part of the modern history of Egypt.
It was much work for me this time, because I was the only interpreter, Osama who used to share the mission of the oral interpretation with me, had another mission as he gave lectures about creativity to the participants.
I can tell that I am very glad about my experience as an instant interpreter/translator, and that I achieved an important progress in it.