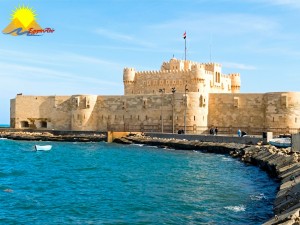 Alexandria the first port of Egypt, it's second largest city, it is in the north of Egypt and west of the Nile Delta, extending about 30 km along the coast of the Mediterranean, Founded in 331 BC by Alexander the Great. Alexandria was the Egyptian capital during the Greco-Roman period (331 B.C.) until the arrival of the Arabs (640 A.D.) Several civilization met in this city , Pharaonic, Greek, Roman and Arabic, that is why, the Library of Alexandria is really important. The city was always cosmopolitan, a mixture of different cultures, Egyptians, Greeks and Italians.

Alexandria is now considered as the first summer resort for the Egyptians, despite the existence of others such as Hurghada and Sharm El Sheikh, and it is the Egyptian city that has Greco Roman monuments (the Catacombs of Kom el Shoqafa, the Column Pompey and Serapeum), Islamic monument (Qait Bey Citadel which replaces the famous Lighthouse of Alexandria, one of the seven wonders of the ancient world), and monuments that date back to the era of royalty (the palaces of kings Farouk ) and today, its new library inaugurated in 2002, that makes is a touristic city.
For many Egyptians, when we say the summer, that means Alexandria with its theaters, cinemas, shops and restaurants.